The Expert Guide to High-Performing & Robust IT Systems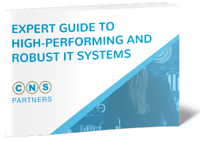 If you'd like to meet industry-wide challenges head on, and gain a real advantage over your competitors, you will need to partner with an IT provider that has extensive manufacturing-specific experience, as CNS Partners does.
We understand the ins and outs of your industry, so we are able to furnish cost-effective solutions that are perfectly tailored to the particular technology profile that manufacturers and suppliers share. We can help you minimize complexity, maximize productivity, and find what works for you- without too much fuss. We speak your language and can help you understand ours clearly without confusing terms or any hidden costs.
Thanks to our years of professional experience, we have learned that not every answer works for everyone. Because of that, we tailor solutions to the individual to make sure their system is the best it can be for them. By customizing a network with the best products, we can ensure a high performing and robust system.
Through our self-published guide, we talk about what works and what does not within the IT networking industry. We also walk through why certain solutions are better than others and what to outright avoid. We took the time to help explain these intricacies without using technical jargon because we care about our customers and we are deeply passionate about this industry.
We work with you to find the right answer for you and your specific needs. As our name implies, we partner with both professionals and you to create the best solution. We stand by our work and are here to help in any way that we can. We believe in true service.
We are people people and want to partner with you. We put respect and responsibility above all else. By providing an all-encompassing solution for you, your needs are not "out of scope" because we do not do that. Our services include software and hardware, but we put the service component first.
Complete the form to the right to learn more about the unique approach CNS Partners provides to deliver high-performing IT systems.