The Expert Guide to High-Performing & Robust IT Systems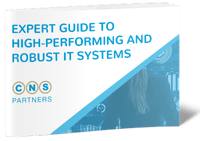 If you'd like to meet industry-wide challenges head on, and gain a real advantage over your competitors, you'll need to partner with an IT provider that has extensive manufacturing-specific experience, as CNS Partners does.
We understand the ins and outs of your industry, so we're able to furnish cost-effective solutions that are perfectly tailored to the particular technology profile that manufacturers and suppliers share. We can help you minimize complexity, maximize productivity, and find what works without too much fuss.
Complete the form to the right to learn more about the unique approach CNS Partners provides to deliver high-performing IT systems.