Simply put, there's nothing that an ill-prepared organization can do to avoid significant costs, process interruptions, and employee anxiety or panic in case of a major system outage.
The benefits of advance planning for how your company will handle downtime and disasters are twofold. Well-prepared firms will experience far less downtime, lower costs, and fewer business disruptions. At the same time, they're less likely to experience significant system outages in the first place.
Business continuity and disaster recovery (BCDR) planning is crucial for boosting your organization's resilience. Having a well thought-out, intentional, and best practice-based BCDR plan in place can increase employees' confidence, protect your business's reputation, and improve your ability to manage risks. For instance, in the case of ransomware attacks, businesses with comprehensive BCDR plans in place are 92 percent less likely to experience significant downtime than those that don't have them.
The "business continuity" component of BCDR planning involves establishing step-by-step procedures that your employees can follow in order to return your business to regular operations as soon as possible in case of a natural disaster, IT system outage, or other catastrophic event. These steps may include temporary manual replacements for technology-dependent workflows, but it's also important to outline the human resources and third-party services you'll need to call in for help, as well as the specific functions they'll perform.
In contrast, disaster recovery planning consists of implementing technologies and best practices to ensure business-critical IT systems get up and running again as quickly as possible after a crisis, and that data loss is minimized or prevented.
The most important element in any business's disaster recovery strategy is conducting regular backups of critical systems. No matter your business's size, the fact that you have reliable backups that are stored offsite and in isolation from your central IT environment will dramatically reduce your risk of incurring significant costs or damages in case of a system outage or cyberattack.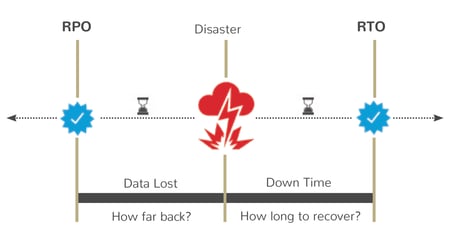 Backups alone don't constitute a complete disaster recovery strategy, however. Besides maintaining copies of your business-critical data in a secure secondary location, you should also be testing your recovery procedures regularly. It takes time to restore data and applications from backup, so it's essential to ensure that the recovery process can be completed quickly enough to protect the continuity of your business's operations. When planning and testing your recovery procedures, you'll want to keep track of two important metrics.
Recovery time objective (RTO) designates how long your business can survive without access to the data or application in question. It's a measure of the maximum amount of time it can take to restore the system to full working operations.
Recovery point objective (RPO) describes how much data your business can afford to lose, and thus dictates how frequently backup copies of your data should be made.
Like all mechanical systems, backup hardware devices don't last forever. Repeated use will eventually cause tape and spinning disk (HDD) drives to malfunction, and even solid state or all-flash storage arrays can be written to a finite number of times. Thus an important element of testing backups is ascertaining the ongoing health of the systems, and making sure that they'll work when needed.
With the advent of cloud computing, reliable backup and recovery infrastructures have become more accessible and affordable for businesses of all sizes. It used to be that only the largest of enterprises could bear the cost of building full-scale redundant systems that could automatically take over computing capabilities in case of primary system failure. But the cloud's resource-sharing models have made backup and recovery as-a-service options cost-effective for even the smallest of businesses, and easy for those with small IT staffs to take advantage of. But these systems must be put in place before disaster strikes in order to solve the problem.